Welcome to Maciej's eSHOP
You can buy here some of his works, and samples of them are free to download!

All the purchase are only for your own personal use, and do kontakt us if you want to perform them live or record them, we will be happy to assist you!

Witaj w e-SKLEPIE Macieja
Tutaj możesz zakupić nuty jego kompozycji i pobrać za darmo ich fragmenty.

Zakupione utwory są przeznaczone tylko do prywatnego użytku. Prosimy o kontakt jeśli chcesz je wykonać bądź nagrać - z chęcią pomożemy!

FREE SCORE SAMPLES
DARMOWE PRZYKŁADY NUT
:

SHOPPING WITH PAYPAL
you can buy multiple items
they will be emailed after a successful checkout.
ZAKUPY Z PAYPALEM
możliwość zakupu wielu utworów
będą wysłane emailem po udanej transakcji.
All scores below are Maciej Granat's works, all rights reserved /
Wszystkie utwory poniżej są dziełem Macieja Granata,
wszelkie prawa zastrzeżone
© 2011/12 Maciej Granat
Evening Suite for piano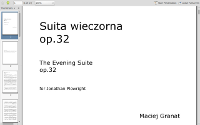 £ 7.50
17 pages, .pdf file

op. 32, Evening Suite for piano ded. Jonathan Plowright
I Prelude to Imaginations – Moderato sostenuto
II The Defective Aria – Andante rubato
III Dance of Eyelids – Allegretto
IV The Imaginary Aria – Moderato rubato
V The Unkind Epilogue – Allegro moderato
Concert-Suite for piano and orchestra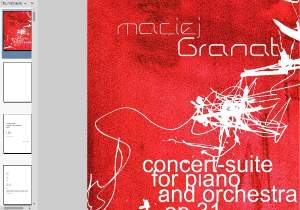 £ 10
71 pages, .pdf file

op. 31, Concert-Suite for piano and orchestra (full score)

ded. to Martina Filjak
I Prelude – Moderato
II Fugue-Aria – Largo
III Dance – Vivace
Distant Nocturne for piano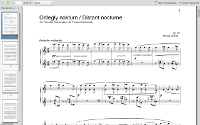 £ 5
7 pages, .pdf file

op. 30, Distant Nocturne for piano
ded. to Tomasz Kamieniak
Preludes for piano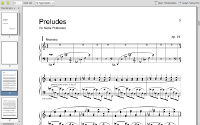 £ 7.50
19 pages, .pdf file

op. 29, Preludes for piano
ded. to Maria Polakowa
I Moderato
II Presto quieto
III Adagio
IV A piacere, recitativo
V Andante semplice
VI Vivo, molto agitato e tempestoso
Sonata for piano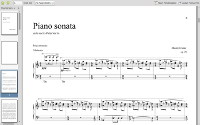 £ 10
24 pages, .pdf file

op. 28, Sonata for piano
ded. to Philip Martin
I Polychromatic – Moderato
II Monochromatic – Lento
III Chromium – Agitato
Lamentation for viola and piano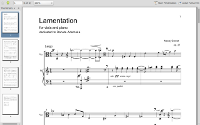 £ 5
4 pages, .pdf file

op. 27, Lamentation for viola and piano
ded. Danuta Adamska
Valse for piano and orchestra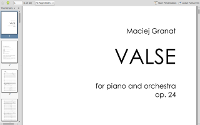 £ 10
40 pages, .pdf file

op. 24, Valse for piano and orchestra (full score)

ded. Joanna Domańska
3 Etudes for piano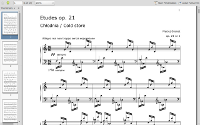 £ 7.50
15 pages, .pdf

op. 21, 3 Etudes for piano
I 'cold store'
II 'interior'
III 'bilocation'
String Quartet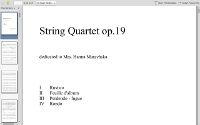 £ 10
117 pages, .pdf file

op. 19, String Quartet
ded. to Hanna Marzyńska
I Rustico
I Feuille d'album
III Perdendo - fugue
IV Rondo
3 Songs for voice and string quartet after J. Iwaszkiewicz poems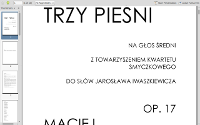 £ 7.50
18 pages, .pdf

op. 17, 3 Songs for voice and string quartet after J. Iwaszkiewicz poems
ded. to Bożena Wojciechowska - Karbownik
Two Preludes for piano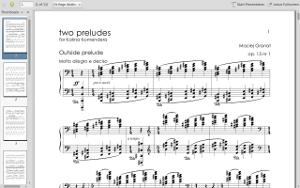 £ 7.50
11 pages, .pdf

op. 15, Two Preludes for piano
ded. to Karina Komendera
Nocturne nr 2 for viola and piano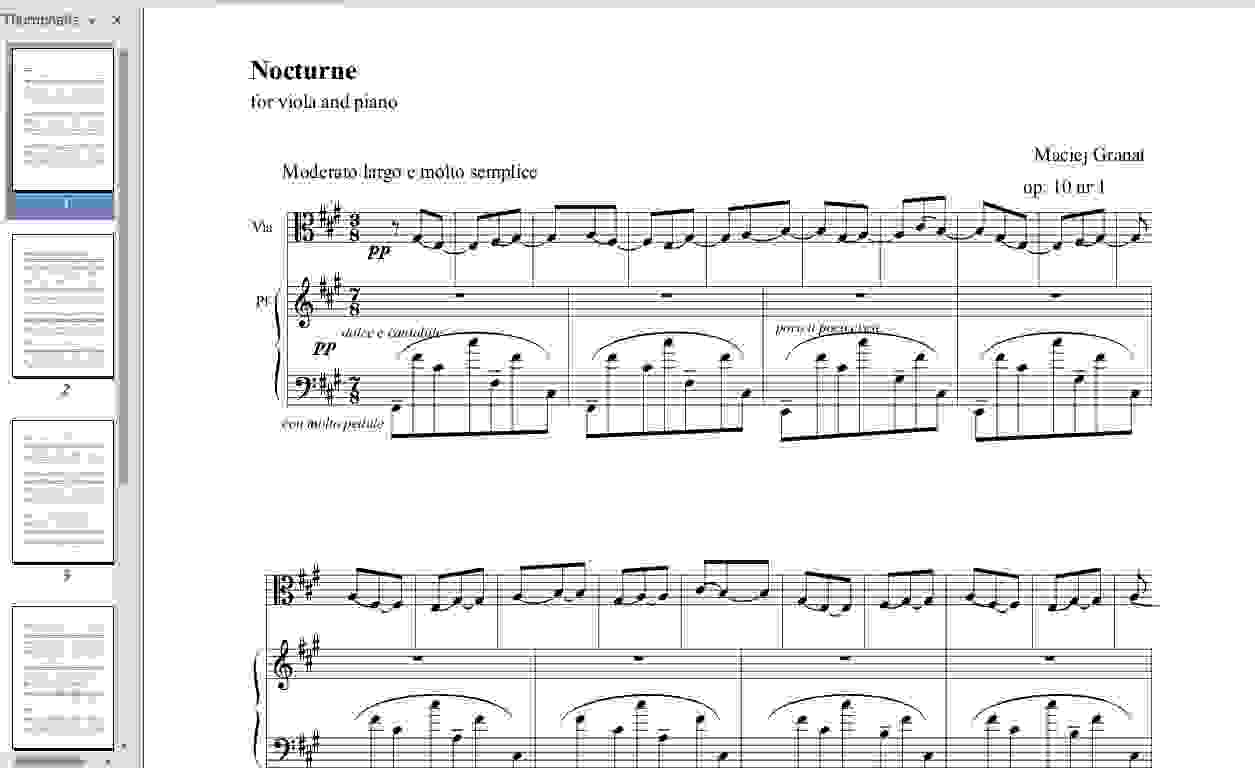 £ 5
6 pages, .pdf

op. 10, Nocturne nr 2 for viola and piano
KATH-IS-ARS for piano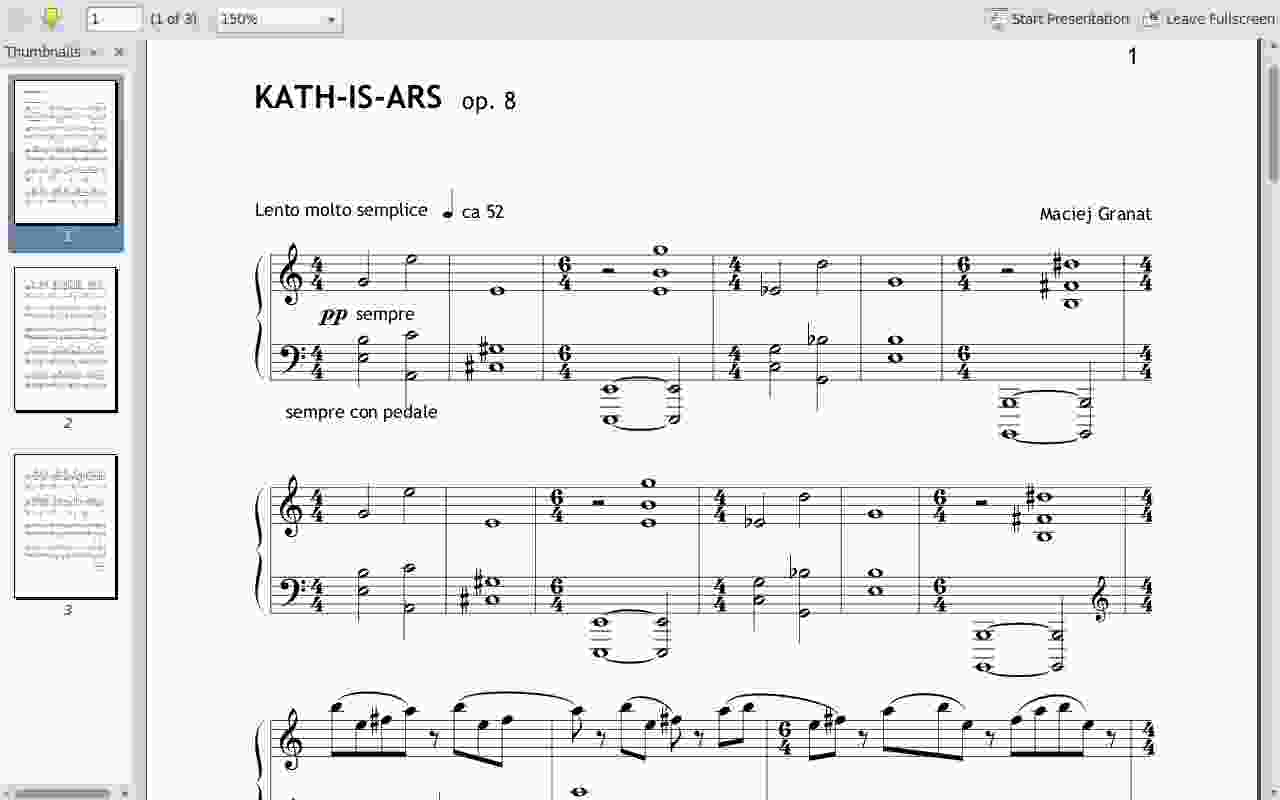 £ 5
3 pages, .pdf

op. 8, KATH-IS-ARS for piano
Emo-Ikon for piano
£ 5
5 pages, .pdf

op. 6, Emo-Ikon for piano
© 2011/12 Maciej Granat
All Rights Reserved